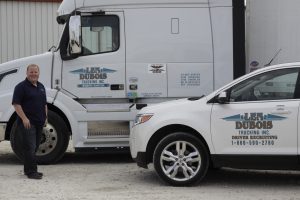 Making big promises, bending the truth and down right lying to potential recruits sometimes happens in the trucking industry. It is a bad practice that is often generated through a disconnect between the company values and the recruiter; whose sole job, and often pay cheque, rely on how many drivers are recruited.
Len Dubois Trucking believes that in order to provide a good, quality company to work for a foundation of trust and understanding must be established right from the beginning. This is why our recruiter doesn't make "big promises" that can't be kept. His sole purpose when recruiting is to be open and honest about the work, lanes, miles, opportunities and company values.
Our Driver Recruiter is also our Driver Safety and Compliance Manger. As our Safety Manager, he is someone you will work with on a regular basis and not a recruiter who you never see after you sign on with a company.
The Honest Truth about Working with Len Dubois Trucking
Some of the promises that recruiters make to lure drivers into their trucks are whoppers. If you're new to the industry you may get sucked in by these promises and if you have been burned in the past by "big promises" you may be leery about what a new company has to offer.
Here are a few "big promises" that Len Dubois Trucking will never make:
1. You will only have to take the runs that you want.
No, probably not and any company that tells you otherwise is probably making one of those "big promises". When you are hired by a trucking company, you are hired to move freight. Not all of the loads booked will be big miles or go to easy destinations.
While Len Dubois Trucking does not have dedicated lanes, we do have regular lanes with regular clients for both outbound and inbound freight. The variety of freight we carry delivers all over the U.S. and from Quebec to B.C. in Canada. We work with our drivers and take into consideration the lanes they prefer and the ones they'd rather do without. We can't promise that you'll never go to places you'd rather not, but we can promise that we'll keep it to a minimum and, most importantly, we'll keep you moving. After all if you're not moving you're not making money.
2. You will be home all the time.
It's a promise we've heard other recruiters make, but if you stop and think about it, if you're home all the time, how are you making money? In the trucking world you get paid per mile run, the more you run the more you earn.
At Len Dubois Trucking we believe in and support a healthy work/home balance for all of our drivers. Who determines what that balance is? Well, for the most part, it's the driver. We do expect our drivers to run 10, 000 miles per month which still allows for ample home time every 7 to 10 days depending on the load you have been assigned. If there is something coming up in your life that you don't want to miss all you have to do is book the time off. We do our best to accommodate your needed time off by altering your run schedule accordingly.
3. You'll Earn More with Big Bonus Programs.
Well there is truth to these promises, you have to ask yourself, and the recruiter, are you ever going to see the bonus?
In the trucking industry, drivers often refer to company bonus programs as "claw-backs" as there is so much red tape and hoops to jump through in order to receive the bonus. Often these programs rely on you meeting a litany of company performance and safety expectations. When those expectations are not met deductions are made from your bonuses, sometimes even resulting in a negative figure that keeps you from receiving a bonus until you're back in the black.
We do not offer a safety bonus programs at Len Dubois Trucking. We expect our drivers to have zero violations and perform their required daily responsibilities because they are professionals. When you hire on with Len Dubois Trucking you will be hired at a starting rate that is above the industry average, a wage that remain consistent. Our drivers also receive additional pay for picks and drops, border crossings and premium rates on certain freight.
While we do not have a bonus program, we do offer our drivers additional incentives, and ways to earn more money, by reaching tangible goals.
Our mileage rewards program pays drivers an additional $0.01 to $0.03 per mile simply for driving 10,000 miles or more per month. As we expect our drivers to take 10,000 miles per month, this reward is paid out just for doing you job.
Our Truck Idling Incentive pays out $100 a month (close to a cent a mile for most drivers) simply for watching your truck's idle time and sticking with our company's achievable idle reduction goals.
Len Dubois Trucking is only as good as it's people. The relationships that we have with our clients, our drivers and our Owner Operators allow us to continue to grow, prosper and ensure that our drivers earn well above the industry average on a consistent basis. We don't just hire drivers, we invest in people.