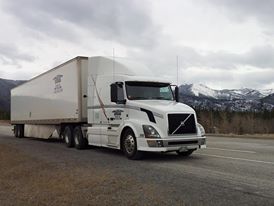 Our fleet is growing and we are looking for professional truck drivers to join our team. Len Dubois Trucking, a Winnipeg Manitoba trucking company, has limited company driver positions available now.
Ask Yourself the Following Questions
Are you being paid $0.38 to $0.42 per mile?
Are you paid for each pick and drop you do?
Are you paid for your border crossings?
Do you receive a monthly allowance for the cell phone you are required to carry?
Do you receive regular, monthly incentives paid over and above your regular wage?
Are you paid on PC Miler practical miles, not shortest miles?
Do you receive mileage and drop premiums on specialized runs?
Do you run an average of 10,000 miles per month?
Do you receive regular home time?
Does your company put a high priority on your safety?
Does your company expect you to follow safe & legal work practices?
Does your company provide you with safe, late model, well maintained equipment?
If you Answered No to any of the above Questions Maybe it's Time to Give us a Call
We are a medium sized, family friendly trucking company that believes in providing and following safe work practices, getting you the miles you want, and the home time you need. We work with our team of drivers and do our best to ensure that their work schedule does not keep them from having a life outside of the truck. Most of our drivers choose to run 10,000 or more miles per month with regular home time. We even offer Shared Truck positions for drivers who would only like to work part time.
We provide our drivers with a competitive pay scale and pay our drivers for the work they do. In addition our drivers receive regular monthly incentives and a $1000.00 signing bonus.
If you are interested in working for a company that values you, contact John via Join Our Team page or call 888.590.2760 ext. 309.