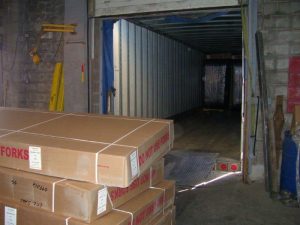 It is the driver's responsibility to ensure that the freight being loaded onto the trailer is done so properly. Should there ever be an issue with a shipper drivers should contact dispatch or their driver service manager before leaving the dock. 11.5% of all vehicles put out of service during the 2014 CVSA Roadcheck were due to poorly loaded or improperly secured freight.
What DOT Inspectors and You Should Check:
Make sure the load is safe and secure.
Check tail board security.
Verify end gates are secured in stake pockets.
Check both sides of the trailer to ensure cargo is protected from shifting or falling.
Verify that rear doors are securely closed.
Where load is visible, check for proper blocking and bracing. It may be necessary to examine inside of trailer to assure that large objects are properly secured.
Check cargo securement devices for proper number, size and condition.
Check tie down anchor points for deformation and cracking.
Check Your Securement Materials
Before you use any ratchet mechanisms, binders, cam buckles, and cargo nets and straps you need to ensure that they are in good condition. The CVSA has the following Out-of-Service criteria for synthetic webbing straps:
Knot(s)
More than 25% of stitches separated.
Broken or damaged hardware.
Any repair or splice webbing.
Overt damaged webbing.
Severe abrasion cumulative for entire working depth of the strap.
Cuts/burns/holes exceeding width of ¾ inch for 4" wide webbing, exceeding 5/8 inch for 3" wide webbing or 3/8 inch for 1 ¾ -inch or 2" webbing. Defects through the webbing are additive across the width of the strap's face for its entire effective length.
Every year the CVSA places special emphasis on a category of violations. The special emphasis for International Roadcheck 2015 is cargo securement. While checking for compliance with safe loading regulations is always part of roadside inspections, CVSA is highlighting cargo safety as a reminder to drivers and carriers. For more information about cargo securement check out these articles from the CVSA:
Top 20 Cargo Securement Out-of-Service Violations