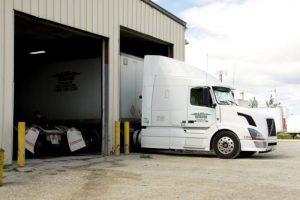 When you don't fill out and hand in your cry sheets you're just postponing needed repairs which could be done while your truck is sitting at the yard instead of delaying a trip. If it's a trailer repair you didn't record, you are passing the responsibility to another driver and possibly delaying their trip as they wait for a trailer repair.
To be successful in trucking we need to work as a team. Quality communication with other departments is required to get the job done. Drivers and maintenance need to have a clear line of communication to prevent delays and ensure our equipment meets safety requirements.
Maintenance relies on drivers filling out their cry sheets to schedule in needed maintenance and repairs. It's the easiest way to take care of equipment maintenance issues.
Your post trip should only take about 15 minutes to complete and can help save hours of time for others who share the equipment. Don't forget to fill out any needed repairs on the cry sheet.
Post Trip Quick Check List
Service brakes including trailer brake connections;
Parking brake;
Steering mechanism;
Lighting devices and reflectors;
Tires;
Horn;
Windshield wipers;
Rear vision mirrors;
Coupling devices;
Wheels and rims;
Emergency equipment
Safe travels out there!