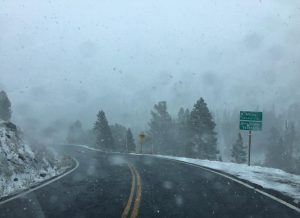 The fall, they say, is supposed to be a little more drawn out than in past years; with a mixture of well above average temperatures and seasonal norms. Unfortunately, it appears that both summer and fall may have already come and gone in some regions.
This image is the unhappy scene from Mono Country Tourism showing the weather from Senora Pass on September 22, 2016, which was closed at the time. While it was bright and sunny most other places, we can't deny the fact that it is time to get the winter kit in the truck.
The Absolute Must Have Winter Trucking Gear
Clothing – a good winter parka, good quality thermal gloves, a toque or some sort of head protection, good quality thermal boots (not steel toed work boots – actual winter boots), something to protect your face such as a scarf or balaclava, and something to protect your lower body such as ski or slush pants (with a thermal lining). These items will come in handy, day to day, as well as in a breakdown situation. In an event you need to abandon the vehicle, temporarily, and walk to get help or shelter, you'll want to bundle up.
Food – Keep non-perishable food and water with you at all times. Also keep some energy bars or granola bars. These are good snacks if you're stranded and they easily fit in your pocket if you need to walk for help. Even if you don't cook regularly in the truck, cans of soup, beans, etc, and a lunch box stove will come in handy if you're caught out with no resources.
Blankets – Keep extra, heavy blankets in the truck, in addition to what you usually sleep with. If your fuel freezes or something else happens that shuts down your source of heat, you need to stay warm until a tow truck reaches you.
Sand and Salt – It's not uncommon to get stuck on ice patches in loading docks or parking lots. Keep a jug or container of sand and winter sidewalk salt mixture in the jump box. This can get you unstuck and on your way in no time.
Winter weather can be unpredictable and it is best to be prepared for whatever the season throws at you. Remember it is better to have these items and never use them, than need them and not have them.