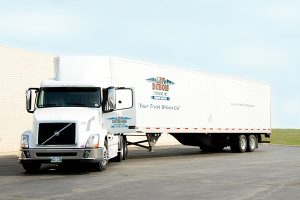 The Len Dubois Trucking fleet is growing and we are looking for Owner Operators and Company Drivers to join the team. We are a medium sized, family friendly, driver-oriented trucking company based out of Winnipeg, Manitoba.
Here are three reasons to sign on with us today!
You Can Control Your Career!
Earn a great living as a company driver. Advance your career by becoming an Owner Operator. Either way, Len Dubois Trucking will help ensure that your earnings are maximized.
Our dispatch team works with you as an individual to make sure that your earning potential is met while still allowing you to maintain a happy home life. Len Dubois Trucking pays for tolls, ferries, scales, and other job related over the road expenses so you don't have to pay for them out of your own pocket.
You Can Enjoy Your Life!
Our drivers are more than just truck numbers; they are fathers, mothers, sons, and daughters. Most of our office team have been over the road drivers, or come from trucking families and that is why Len Dubois Trucking works with our fleet to ensure they receive regular home time and that drivers make it home for important life events. Through regular lanes and clients, our drivers enjoy great miles and regular home time.
We Invest in Our Drivers!
Starting out in a new career, or even with a new trucking company, can be difficult. At Len Dubois Trucking we believe that investing in our drivers is a key component to everyone's success.
Our Owner Operators earn above industry average income with a per mile or percentage contracts, company paid tolls and scales and more. Owner Operators can also take advantage of our money saving fuel plan, low shop rates, deductible buy down, and modern well-maintained trailers equipped with fuel saving wind deflectors. Owner Operators receive a $2000.00 sign on bonus, easing the transition process of moving to a new company.
Our company drivers earn above industry average income with regular pay per mile in addition to idling bonuses, mileage bonuses that add 1 to 3 cents to your per mile pay for driving 10,000+ miles a month and a 1 cent U.S. premium for every U.S. mile you run. Our drivers face no out of pocket expenses with company paid tolls, scales, faxing and more. Company Drivers receive a $1000.00 sign on bonus, just our way of saying welcome to the team.